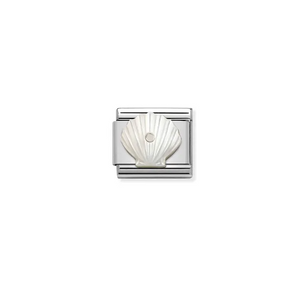 Original Nomination Link for Composable Classic Bracelets in stainless steel and sterling silver with Shell in White Mother of Pearl. Each shell symbol in white mother of pearl is shaped, polished and positioned by hand and are, therefore, subject to slight variations of shape, size, finish and positioning. This Shell Link is the perfect way to remember one of your favourite trips or dream of your next one!
Complete with Branded Nomination Gift Pouch and Packaging.
Free application of charms inside Harvey's The Jeweller's and free bracelet cleaning.