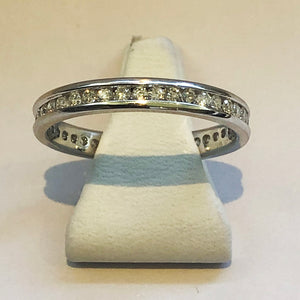 Description:
A beautiful 18ct hallmarked white gold diamond full band ring
.
Diamonds: 
Cut - round full brilliant cut
Colour - G - Fine white 
Clarity - S1
Weight - 0.50ct (1/2 carat)
- Can be worn alone or next to your engagement ring to create the perfect set. 
-
20 year guarantee
 on all diamond product against manufacture fault.
- Free lifetime cleaning service offered same day at Harvey's the Jewellers and free valuation for insurance purchases on the ring. 
Ring is Size M
This ring is available in all sizes and half sizes through our Middleton shop.